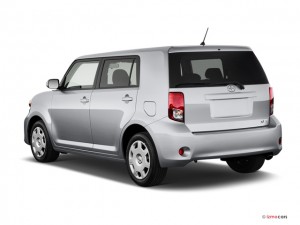 2012 Scion XB. Excellent for drummers. Single hatchback door lifts straight up and clears my head.  Rear bumper is low for easy load in and out.  Gear sits low in cargo area and does not block my side and rear vision.  Automatic transmission, power steering-brakes-windows-mirrors-door locks, air conditioning, wifi/bluetooth/phone sound system.  GREAT CAR. NO PROBLEMS EVER.  I always take care of the scheduled servicing at the Toyota dealer (never anywhere else!!)
Be Bop drumset, Drum circle djembes, Pecussion for gigs or Rock drumset–everything fits great!
Wishlist:  slightly more engine power, smaller turning radius, slightly bigger gas tank, overhead cargo illumination, more wiper speeds, slightly smoother ride, better sound system screen angle for visibility.  This is a fantastic car for this drummer.  The car's nickname is "HAWK" after one of my favorite directors Howard Hawks.  Carl Smelser.